Retail & Ecommerce
---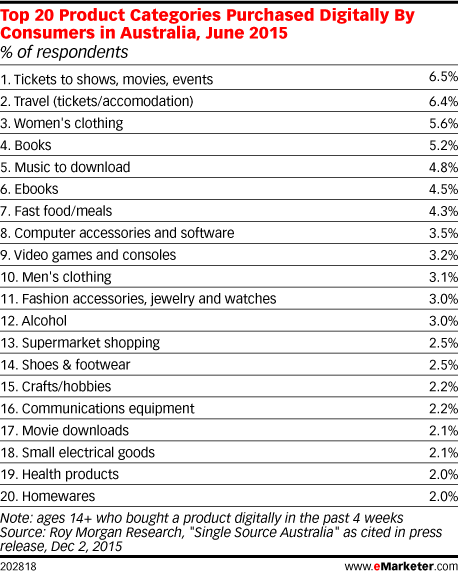 Retail ecommerce spending in Australia surpassed $19 billion last year, eMarketer estimates, and research suggests the most common purchase categories include tickets, travel and apparel.

Magnus Jern, president of the Mobile Application Solutions Division at DMI, a creator of mobile apps for global brands, discusses how consumers are using mobile apps to influence purchasing decisions, conducting research and shipping in-store purchases to their doorstep.
More than ever before, shoppers in the UK set out on their path to purchase via digital channels. However, where they make their final purchase is much more varied, with the digital element less marked.
Only a minority of adults in Hong Kong had plans to give Christmas gifts last year—but buying the gifts online was an even more niche activity, according to research.
Mobile has become an important channel for shoppers as they research and purchase products. According to 2015 research, these "mobile warriors" skew younger as well as female
Shopping at brick-and-mortar stores has long been a rite of teen passage in the US—though socializing may be at least as important as the shopping itself. But teens, like millennials before them, now prefer shopping via digital channels, according to one survey.
Luxury brands were slow to take their marketing efforts digital, with many fearing they could not offer the kinds of impressive experiences on the internet that they were used to giving customers in person. But customer service has become increasingly important on luxury websites in recent years.