Marketing Technology
---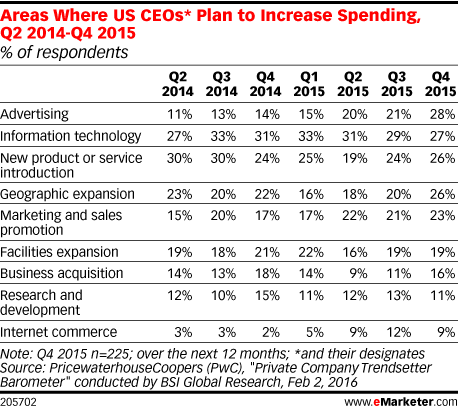 More than a quarter of US CEOs said they plan to increase spending on advertising over the next 12 months, according to research. Marketing and sales promotion is another area they're focusing on.

Christopher Curtin, chief brand and innovation marketing officer at Visa, discusses the challenge of integrating marketing tech companies.
Chris Thorne, CMO of The Honest Company, an eco-friendly retailer, talks about engaging with millennial mothers and discovering what they value.
Marketers are increasingly adopting and incorporating new technologies into their strategy. According to a July 2015 survey, almost a third of respondents said it takes four to six months to fully integrate new technologies into their marketing efforts.
Jon Moore, chief product officer of Trainline, an online seller of train tickets for UK train services, discusses how its mobile app has streamlined the travel process for its consumers.
Nearly two-thirds of CMOs worldwide don't currently use digital advertising to better understand the audiences within their CRM database, according to September 2015 research.